I know, daffodils are not herbs. But, they were an exciting part of our garden this year and they have a little story too.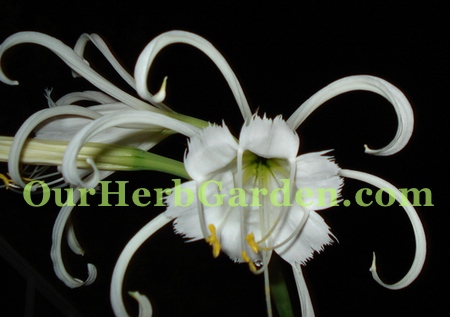 We were wandering around in our local Big Lots several months ago and they had the early spring gardening stuff marked down. Among the crocus and yellow daffodil bulbs, I found a lone box of what seemed like the prettiest flowers that I had seen in a long time. Being on the clearance pile, they were cheap. I don't remember exactly what we paid but they were cheap enough for us to buy them with the hopes that they'll bloom next year.
Well, somebody goofed. These weren't early spring flowers at all. They actually bloom at the end of June. They are quite similar to several varieties of spider lilies and ours performed quite like several gardeners reported in Texas. While not a spider lily our bulbs grew and bloomed almost identically to what they were reporting.
What are they? Peruvian daffodils. They look like someone combined a beautiful white spider lily with white daffodils. The scent is heavenly. Each stalk had three huge flowers. Sadly, each of the two plants bloomed only for about four days. But, they were absolutely glorious. Once the flowers did their thing, the bulbs sent out a number of leaves that look like pretty much any other lily plant.
Even though their display is short, we are keeping our fingers crossed that our bulbs survive being virtually forced to bloom with so little growing time. We didn't fertilize, so hopefully, they won't be too stressed by our experiment.
I couldn't find anyone on Amazon selling Peruvian daffodils other than a beautiful Peruvian Dancer daguerreotype
, which the seller is limiting the edition to 500 pieces but this beauty will set you back a Benjamin.
And, many of the flower bulbs that come up in their search tool are actually sold on other sites. Meaning you are not actually doing business with Amazon at all. I did find a few sellers of what look like quite pretty similar white flowers but you will have to be quick to get them as they don't seem to have many in stock.
White Amaryllis Belladonna – Naked Lady 1 Jumbo Bulb
This item only had one customer review but it is sold by Marde Ross & Company, a Certified California Nursery. These bulbs are scheduled for fall delivery. Their spring foliage dies back and the plant should not be watered during the summer. (Yeah, sounds weird but Marde Ross mentions it twice.) The flowers bloom in August to early September. Unfortunately, it sounds like they might not bloom the first year.
---
3 Plants Bulbs Pancratium zeylanicum spider white lily + FREE PHYTO Flower Fresh & Viable From Garden
These are being sold by a new Amazon vendor. They are offering what look like absolutely gorgeous flowers from Thailand. There are no reviews on this item, anything else they sell or the vendor themselves. You would be a bit of a guinea pig here but you might get some really pretty flowers that no one else in your neighborhood is bound to have.