Fall is one of our favorite times of year. The weather gets cooler and the main part of the garden gets ready for its winter nap. It's a time for mums, pumpkins and fall leaves. And, when you live in the Blue Ridge Mountains, how can you not take a few road trips to enjoy the spectacular show the deciduous trees treat us to each year? We can take day trips visiting each sub-climate in our area and follow as the color travels from the highest elevations to much lower ones.
There's a little dogwood tree in our backyard that serves as my barometer. As it's leaves turn from green to yellow to red, I have learned where in the Blues the color is peaking. Throughout the fall, as time and energy allows, we visit our area based on elevation. This year was no exception.
Our first trip was on October 14th, 2020. According to our dogwood, it's time to go high. We're at about 2,150 feet above sea level. We headed out to visit the Linn Cove Viaduct area – around 4,100 feet above sea level.
Linn Cove Viaduct
It was a Wednesday. We thought it would be crowded but we didn't think it would be crazy crowded. Traveling on the Viaduct always induces a bit of vertigo and worry about flying off the side of the mountain. This year, my greatest fear was running someone over. There were cars, people and dogs everywhere. And, those folks who chose to take in their fresh air and sunshine through a mask, were often paying more attention to adjusting their face coverings than whether or not they were stepping in front of traffic.
I admit, I had some romantic notion (read fantasy) of being able to capture my own glamor shot of that amazing bit of construction. I naively thought I could capture a photo at least half as nice as this one taken in October 2006, by Tyler Raulerson.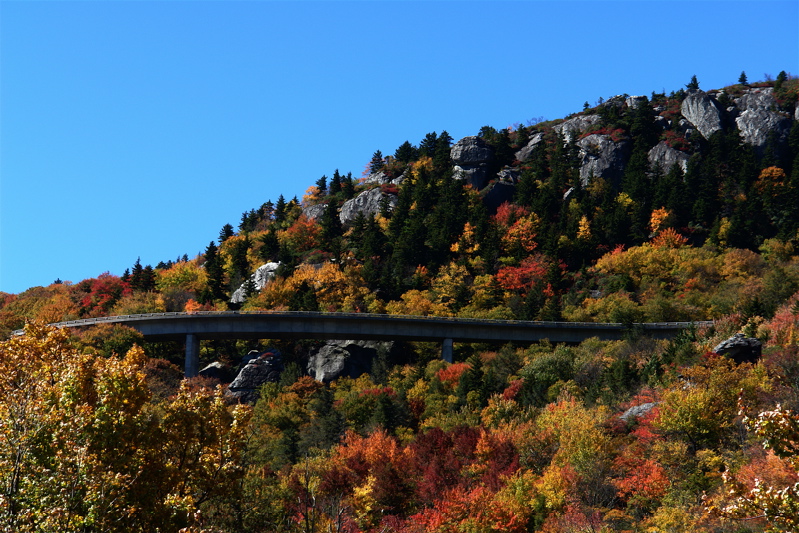 The colors on the day Tyler was there were "peak." He likely had a much fancier camera than I do and the skills to use it properly. And, I suspect he wasn't fighting an alien death ray sunbeam. Oh, and it might not have been wall-to-wall people like it was when we went.
Anyway here's the best of my Viaduct photos. And, it comes with a bit of a story.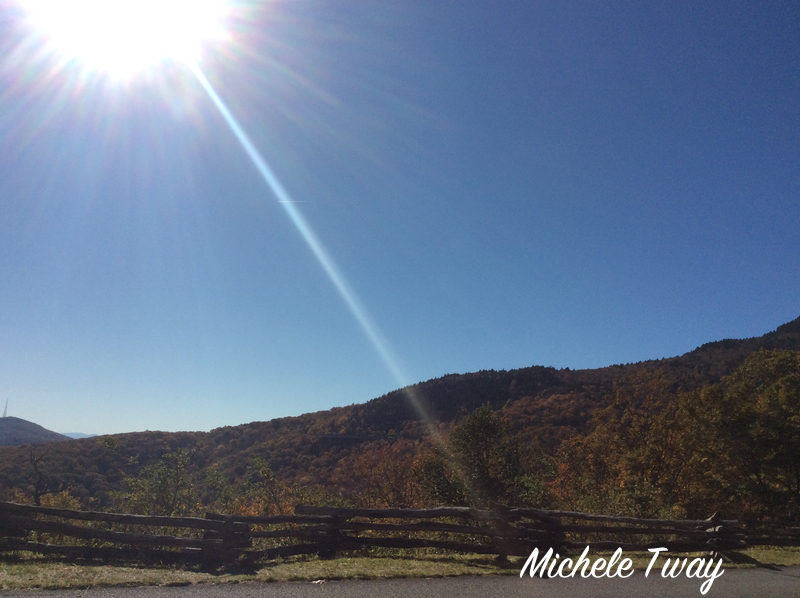 It may be my virtually non-existent photography skills. It might have been that I was just too far away to get "the" shot. Or, it just might have been a frustratingly alien laser photo destroying death ray of a sunbeam made it impossible for my camera to focus on anything other than that beam of light. It was a glorious day. The sky was that wonderful blue color unique to the Carolinas. As we rose higher in elevation (and got closer to the sun) it was noticeably warmer. As this photo shows, it felt like we were close enough to touch the sun.
Oh, and if you didn't notice, no reds this year. We might have timed it a few days off. There were some maples but only the tips of their leaves were showing reds.
Whether we were earlier, late or hitting the area at "peak" for 2020, it was the year of gold. Golden leaves and golden sunshine. And, the alien sunbeam.
Think I'm exaggerating about the sunbeam?
Bright Laser Light Ray from the Sky
Here he is again. This was taken in the same location but while facing a slightly different direction.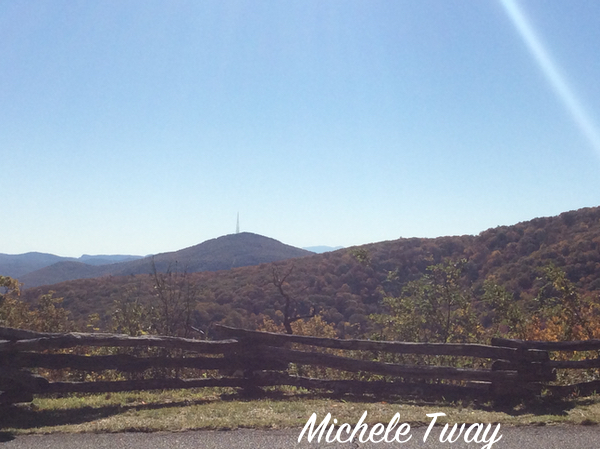 I finally thought, surely, if I take a photo of the sun, the sunbeam will just blend in with all of the others and it was just some weird light effect.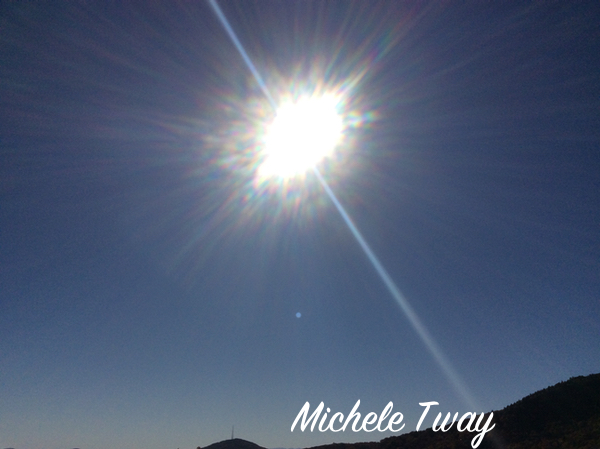 I have to admit, as much as that sunbeam haunted me; it was amazing. I've never seen beams radiating out of the sun like this before. Even from a different angle, the giant beam was on full display, shooting off in opposite directions. The sun was certainly putting on a dazzling show that day.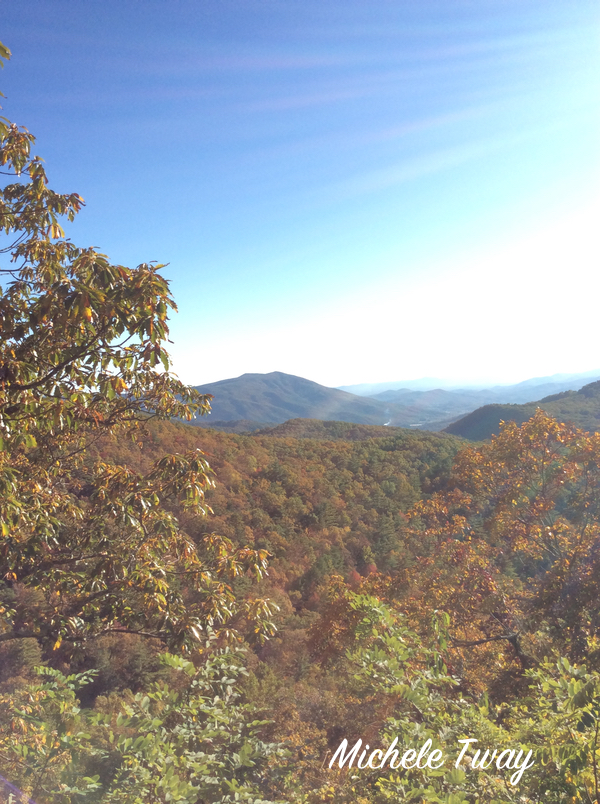 There was far more gold to be found that day. The trees were really putting on a beautiful display of their own golden brilliance.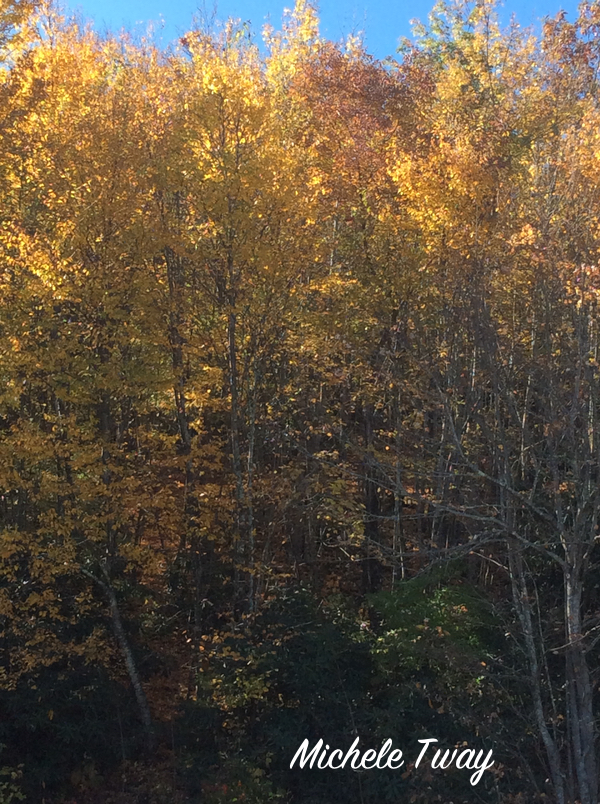 Looking up, rather than out or down offered stunning views of golden loveliness as well. And, those deep green trees? They're red spruce. They only grow at the higher elevations. They're somewhat fragile trees and are easily damaged by high winds. Growing like they do high up on the peaks of the Blue Ridge, they often develop a wind-blown, almost bonsai look – if, perhaps, the arborist was a little drunk whilst trimming his trees.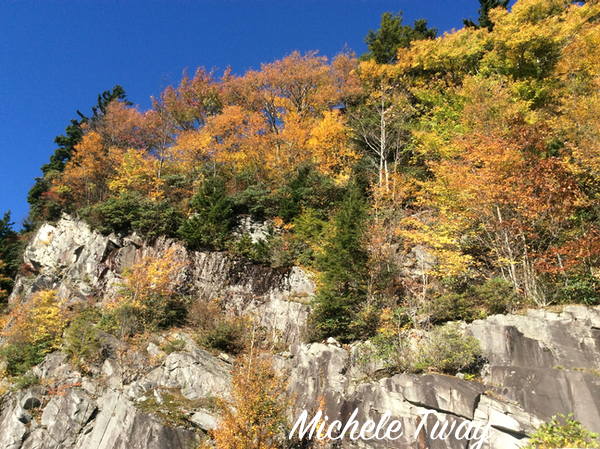 While many of the red spruce trees growing on Grandfather Mountain look tortured and twisted; there are some growing more naturally. This was a sweet specimen growing right along the roadway in a bit of a protected curve surrounded by gold on all sides.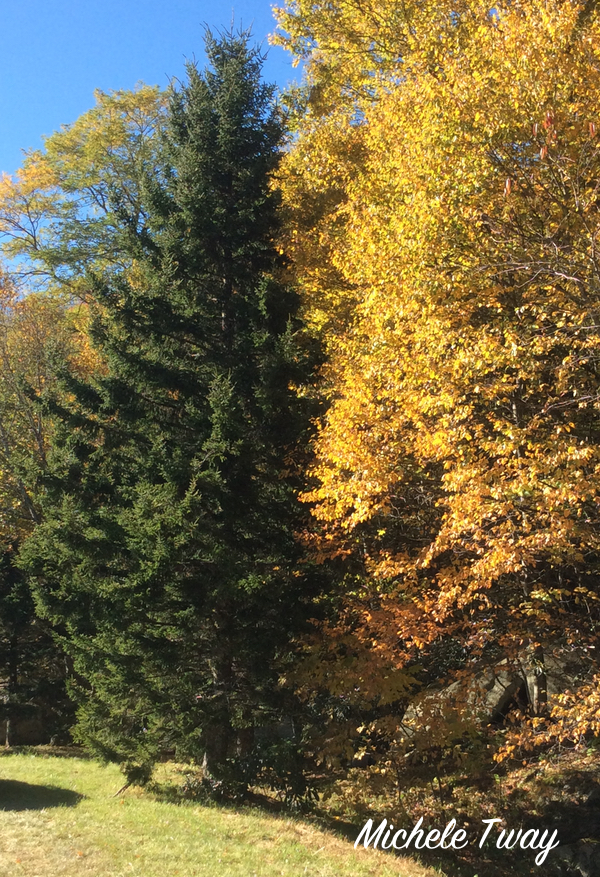 Christa's Country Corner
Lunch that day was a challenge. I knew where I was going, it was the getting there that made the challenge. Our Blue Ridge Parkway guidebook said you could use one of two exits from the parkway to get there. And, while that was technically true, it was far more difficult if you took the wrong exit. The restaurant is literally across the road from exit 312. If you take the other exit, which, of course, was the one we took; you have to correctly guess which direction to travel and make all of the right, and left turns to find it. We didn't. Again, and again, and again. sigh
When we finally found it, with some help from a wonderful local gentleman with a gift shop in Pineola, it was almost 2. We got out of the car and looked across the parking lot to see the exit not taken. 30,000 lashes with a wet noodle to whoever thought the guidebook should even mention the other exit. Dumb, dumb, dumb!
Our target? Christa's Country Corner. Why did we choose it? It was near the Viaduct. The reviews were great; including a 100% score from the health department. They have a nice list of sandwiches available every day with hot meal specials available daily. Being Wednesday, it was baby back ribs and pulled pork BBQ. And, I was craving some BBQ big time. As we kept driving around in circles, my biggest fear was if we did finally get there, they would be out of both. We got there just in time.
No joke, according to the owner, it was an absolutely crazy day. I think we got the 4th or 5th last orders of both specials. By the time we left, they were out of almost everything. Folks that came in when we were leaving said they had been turned away by other places because they were actually out of food.
Mom got the ribs, I got the pulled pork. Both were yummy. They were nicely smoked and the sauce was perfect. The cole slaw and potato salad were home made and quite good. I was worried when I saw the size of the potato pieces but all were nicely cooked. (I've lost count of how many times the potato salad included raw taters in it. This was not one of those times.)
Mom said the beans were good too. Sadly, the mac and cheese had a bit of that watery let's try to make this batch last look about it. Wouldn't recommend the mac and cheese but have nothing but good stuff to say about everything else.
The rolls that came with our dinners were made on site. They were wonderful. But, the star of the show was the cinnamon roll with pumpkin cream cheese frosting. The frosting was light and fluffy and scooped onto the roll. There was just enough pumpkin to flavor the icing without turning it into pumpkin pudding. It looked more like ice cream or whipped topping than icing. But, that cinnamony, yeasty, chewy, pumpkin cream cheese covered bit of heaven was worth the trip alone – even with all of the wrong turns and utter frustration of getting off at the wrong exit. If you're ever up that way in the fall, you have to get one!
Despite the wrong turns and the alien demon-spawn sunbeam, it was a beautiful day in the mountains. The food was good. We managed to get home before dark. And, we breathed in lungfuls of fresh, mountain air and found plenty of golden treasures.