Growing Angelica
(tips on growing angelica in your garden)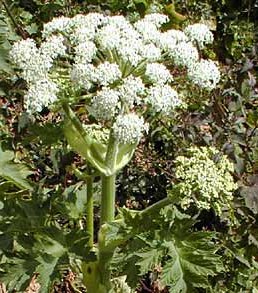 Our Herb Garden has an extensive companion planting guide for herbs where you can find information about the other herbs we discuss on this site. This page discusses growing angelica and angelica companion planting.
When it comes to planting this pretty, white flowering herb in your garden, aesthetics are as important as companion planting. Angelica is a large plant that can become quite tall – four to six feet with individual branches reaching as long as three feet. Companion planting angelica needs to take into account the direction of the sun and the smaller height of most of the other culinary herbs and flowers.
Angelica Companion Planting
Angelica is a good companion plant for epimediums, ferns, hellebores, lily-of-the-balley, and sweet woodruff.
Bad Angelica Companion Planting Choices
Do not grow dill near Angelica.
Beneficial Insects Angelica Attracts.
Planting angelica in your garden will attract honeybees and beneficial wasps, lacewings and ladybugs.
Additional Angelica Information
(Archangelica officinalis)
To learn more about growing angelica be sure to check out our angelica fact sheet.
Angelica has a long and interesting history which can be read on our angelica throughout history page. Did you know that it was once believed that angelica was an effective treatment for the plague?
Along with the archangelica species of angelica, Our Herb Garden shares some information about Angelica Sinensis which has been grown for over 4,000 years by the Chinese for its medicinal properties.